Doorwarden of Minas Tirith
Points:
5312
Posts:
4083
Joined:
14/May/2003
THE GUILD OF VENTURERS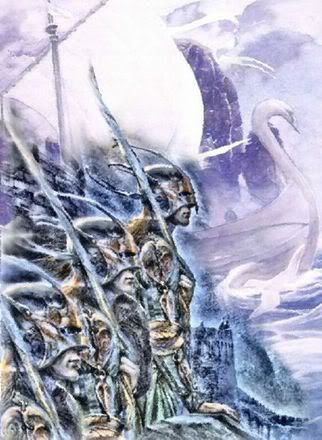 (Aldoriana's collage based on original works of John Howe)

'To this brotherhood are joined all the hardiest and most eager venturers,
and they seek admission to it from all the regions of Middle-earth.

J O I N
if you are eager to explore the known and uncharted spaces of the Perilous Realms !

The Guild of Venturers
is devoted to working on Projects dedicated to in-depth studies of Middle-earth Lore.
Current Open Projects
GALLERY OF CHARACTERS
You shall be free and most welcome to suggest your writing piece on any character within the Legendarium of J.R.R.Tolkien.
HISTORY LESSONS
If you feel the thrill of charting the
'history of Middle-earth'
, this is your project!
You shall be most welcome to suggest your written essays and analyses/ reviews on any historical event that took place in the fantasy world of Master Tolkien.
THE WONDERS OF MIDDLE-EARTH
This Project is to cover all the great, wondrous and exciting achievements within the sung-in world of Arda and beyond - anything and everything created by Valar, Maiar, Elves, Men, Dwarves, Hobbits etc. races.
ECONOMY OF MIDDLE-EARTH
You are most welcome to suggest your essays on a topic that refers to anything related to the "economy" of Middle-earth.
COMPARATIVE MYTHOLOGY
Tough subject!
Yet, you are most welcome to write on it! The main idea is to offer your essays, where you can provide a well researched analysis, comparing Tolkien's mythology to other existing world mythologies.
LORE-QUIZ & LORE-GAMES
This shall be the project where the Members of the Guild shall have the freedom to offer
Lore-quiz sets of questions
, and/or all other kinds of Lore-games, and then offer these Quizes & Games to be held on the Plaza - of course,
after the explicit permission of the Administrators.
ART STUDIO
Dedicated to illustrating the Guild projects.
N.B. !!!: To learn the full details on membership, rules etc., please go to
>> Mar Almárëa <<
where the project is housed.
Take a tour around all the threads dedicated to the Project, and if you feel interested,

J O I N

N.B. !!!: Pointies shall be gladly awarded to the successful authors!


* * *
With the gracious permission by Administrator - Lady Baelmyrrdn